Feilding High School's 100 Years Virtual Celebration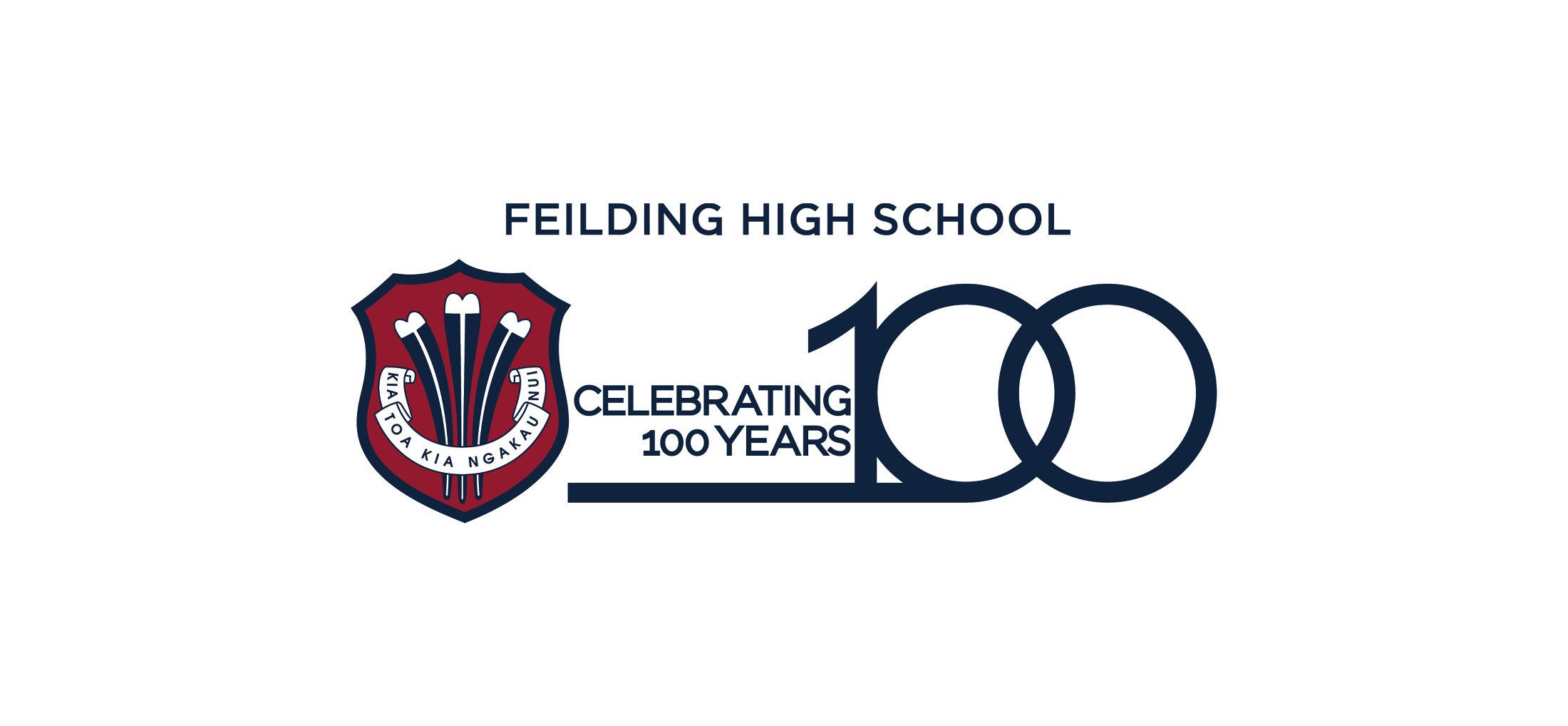 Centenary Clothing and Merchandise
Centenary Clothing and Merchandise Order Form
Day 1
Welcome from Principal Nathan Stewart
Nau mai, haere mai FAHS Feilding High School whānau and welcome to the start of our virtual centennial weekend. All weekend long, videos and online events will take place on the Feilding High School website, the OPA – Feilding High School and FAHS Feilding High School Facebook pages. We begin with a welcome from our Principal, Nathan Stewart, who will share a story about our school's founding before updating you on where we are today in 2022. Wherever you are watching from, we hope this weekend is a chance to revisit and remember your time at FAHS Feilding High School and the many memories, milestones, and friendships you had. Kia Toa, Kia Ngākaunui.
District Council Mayor Helen Worboys
Manawatū District Council Mayor Helen Worboys recorded a video to congratulate FAHS Feilding High School on its centennial. Mayor Worboys is an alumnus of our school and recognises the strong connection between the school and the community. We want to thank Mayor Worboys and her team for taking the time to record and edit a video to contribute to the opening day of our virtual centennial weekend.
Past Pupils and Staff
Past pupils and staff of FAHS Feilding High School took the time to record messages to share with our alumni and community. Videos from past students, staff, farm managers, athletes and a former principal demonstrate how FAHS Feilding High School is a place where everyone can belong, engage and succeed.
Day 2
School Tour
Join us this morning for a tour of our school. What began as a brick building of four classrooms on North Street has evolved into the campus we know today. From the modern-day library, which was once our school hall, to the old hostel refectory that became our cafeteria, there are stories and history around every corner at Feilding High School. The school, boarding house, farms and, of course, its people are what make Feilding High School unique and special.
All About Them - Philip Jeffreys
Philip Jeffreys has been teaching at Feilding High School since 1976 and has probably taught someone you know, if not immediate members of your family. In his 46 years of teaching, he has coached hockey, been the Year 13 Dean, the Head of Faculty for Languages, the PPTA branch chair, the staff representation on the Board of Trustees and an Assistant Principal. Not many individuals could draw on that experience and convince past pupils to share their stories about Feilding High School, but he has done just that.
To support the centenary, Philip compiled a hundred and four stories from alumni dating back to 1976 in his book, All About Them. The book was meant to coincide and support our centenary and is available from the school office today. If you are not one of the 104 alumni featured, we can assure you will remember a few of the names who contributed to the book.
4th Generation Families
Feilding High School is more than a school to some students; it is a family tradition. We have several students from the fourth generation from their families to attend Feilding High School. During Waitangi Day weekend, three of these families visited to take a walking tour and share their memories and what Feilding High School means to their families.
4th Generation Anderson Family
First up is the Anderson family. Peter Anderson attended Feilding Agricultural High School in the 1950s, and his granddaughter, Hayley Anderson, was a student in the 2000s and is now a current teacher at Feilding High School.
4th Generation Beard Family
Next up is the Beard family. Trevor Beard was a first-day pupil back in 1921, and his son and grandson recently visited to tour the school and the L.J. Wild House. The Beards are a proud fourth-generation family that have preserved a strong bond with Feilding High School.
4th Generation Pederson Family
Today's final fourth-generation video is the Pedersen family, who brought three generations to tour the school, boarding facilities and retrace some history at our school hall. Their decision to continue the family tradition can be attributed to current student Jamie Pedersen, who, alongside his family, offer some advice on how to make the most of your days at Feilding High School.
Day 3
Centenary Service
Norman Lind is a familiar name to past pupils of FAHS Feilding High School. A past pupil from 1960-1962, Norman joined the teaching staff as an assistant woodwork teacher and spent 32 years giving back to the school in various roles. We were honoured to have Norman join us recently to deliver this centenary service.
Feilding High School Archive at the Coach House Mueseum
FAHS Feilding High School history is on display at The Coach House Museum, where journalist Carly Thomas sat down with Marilyn, the Archive Manager, to discuss the collaboration between the OPA, Feilding High School and The Coach House. The Centenary exhibit is on now and will be on display for the next eight weeks, so be sure to visit the museum and revisit your Feilding High School memories.
70s and 80s Slideshow
A look back at FAHS Feilding High School in the 1970s and 1980s reveals more than just the uniforms have changed. Not surprisingly, however, there have been few changes to the queue in the cafeteria.
2000 - 2021 Slideshow
Now, a look back over the last 20 years. FAHS Feilding High School has been fortunate to have staff members like Dennis Pierce, David Taylor and Shaelyn Hirst behind the camera lens in the Art Department, mentoring our student photographers to enable us to capture these memories and many more. Together with our Media Department and Committee, their work allows us to capture all the moments that make being part of this school and community special.
Centenary Farewell
Thank you for visiting our virtual centenary celebration this weekend. We hope you have been able to watch and reminisce about your time at FAHS Feilding High School. We are excited about the next hundred years and look forward to welcoming you back at a future commemoration. Kia Toa, Kia Ngākaunui.